News
Joe Jencks ~ Tour Dates ~ #7 Artist 2022 + Wisdom from Rabindranath Tagore
Thursday, February 16, 2023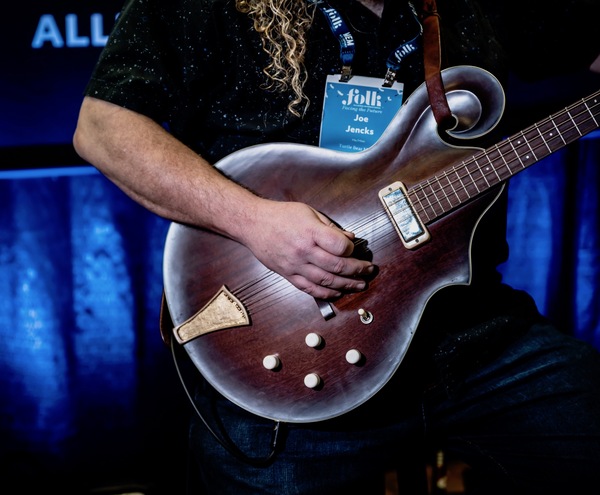 Upcoming Concert Dates
2-17-23 ~ Fellowship Variety Music Cafe - UU Poughkeepsie, NY
2-18-23 ~ People's Voice Cafe - New York, NY (w/ Rod MacDonald)
2-19-23 ~ Sunday Morning Presentation - UU Society of South Suffolk, NY
2-19-23 ~ Sunday Street Concerts - Stony brook Village, NY (w/ Rod MacDonald)
2-24-23 ~ Madison Folk Music Society - Madison, WI (w/ guest, Kaia Fowler)
2-25-23 ~ Wisconsin Singer Songwriter Series - Mequon, WI (w/ guest, Kaia Fowler)
3-04-23 ~ Progressive Voices Concert Series - Des Moines, IA
3-11-23 ~ Joe Jencks in Concert - Unitarian Universalist Church of Worcester, MA
3-12-23 ~ Joe Jencks leads Sunday Service - 1st Parish Church (UU) Quincy, MA
3-12-23 ~ Joe Jencks in Concert - Union Congregational Church, East Bridgewater, MA
Dear Friends in Music,
2023 is off and running fast. Wow. I took the month of January off the road to engage in self-care. What a gift. I made it to the fitness center 21 days out of 25 days that I was a member. It took me until January 7th to join. So, not too tragic of a delay on a new year's resolution. I loved sleeping in the same bed every night, cooking whole fresh food in my own kitchen, getting caught up on various bits of admin, as well as moving some long-term projects forward. All of it counted as self-care, all of it was needed. I hit the road right at the end of the January, and felt like a different person. I was ready to reconnect with beloved community.
The first stop on the tour was to the Folk Alliance International Conference in Kansas City, MO. I was honored to be an Official Showcase Artists this year, and delighted to have that platform from which to celebrate the success of my newest album: The Coming of the Years. It made a solid splash in the US and internationally - parking me as the #7 Artist for 2022 on the Folk Alliance / Folk DJ chart (coming in just behind folks like Janis Ian, Bob Dylan, John McCutcheon, Lucy Kaplanski, and Eliza Gilkyson). I'll take it! My gratitude to all of the DJs who work tirelessly to keep Folk, Americana, and Roots Music alive and well - and accessible even still over the airwaves and many other platforms. And my thanks to all of the presenters across the US, Canada, and Ireland who have supported my music for a long time. Last but not least, my thanks to you, the listeners who make all of this possible with your sincere and generous support of LIVE music and public radio. It is a joy to be in community in all the ways we can: online, over the airwaves, and in-person.
In addition to keeping my head in tour planning, logistics, and in the music itself, I have also been seeking ideas that are new to me, or at least presented in a way that feels fresh to my mind. On this journey I have fallen in love with the Bengali poet, Rabindranath Tagore.
In 1913, Rabindranath Tagore became the first non-European poet and the first ever lyricist to win the Nobel Prize in Liturature. Sometimes referred to as The Bard of Bengal, Tagore's work remains less well known globally than it should. A polyglot and polymath, I think his writings carry meaning across linguistic gaps as a result of his ability to so cogently relay ideas from multiple disciplines in multiple languages. As both author and translator, he conveyed ideas elegantly, such that they still speak vividly today. This excerpt from Gitanjali, has been haunting the corridors of my mind as I try to relate to the world and the times in which we live.
"Where the mind is without fear and the head is held high;
Where knowledge is free;
Where the world has not been broken up into fragments by narrow domestic walls;
Where words come out from the depth of truth;
Where tireless striving stretches its arms toward perfection;
Where the clear stream of reason has not lost its way into the dreary desert sand of dead habit;
Where the mind is led forward by thee into ever-widening thought and action -
Into that heaven of freedom, my Father, let my country awake."
~ Rabindranath Tagore, Gitanjali

Amen. May we all awake into that reality where we see more clearly, love more freely, and act more effectively toward a world transformed. To that end, one more thought from Tagore that I have fallen in love with:
"I slept and dreamt that life was joy.
I awoke and saw that life was service.
I acted and behold, service was joy."
~ Rabindranath Tagore
I hope to see you out on the road sometime soon. All confirmed tour dates are listed on www.joejencks.com. And even still, additions and cancellations related to the pandemic continue. So please do check the website frequently for updates, changes, and additions. Concerts in the next few weeks include shows in NY, WI, IL, IA, and MA.

May you find many forms of joy and restoration as this year unfolds. Beauty is revolutionary. Art is revolutionary. Love is revolutionary. A well cooked meal is revolutionary. Be rebellious.

In Gratitude & Song,

~ Joe Jencks

2-16-23






















Photo by Neale Eckstein